470-327-8336
Vicodin Detox Near Duluth
Going through detox for hydrocodone is the first step to overcoming a Vicodin® addiction, and Sunrise Detox Duluth is here to guide you. Our

medically guided detox near Duluth knows how to successfully taper you off the opioid. We'll keep you comfortable and safe while your body rids itself of the drug. Simply reach out to

470-327-8336

to get the assistance you need.
Hydrocodone-based medications such as Vicodin are some of the most regularly prescribed painkillers worldwide. Despite their popularity, they also carry a great risk of addiction because of the pleasurable sensations they produce. If a substance use disorder arises, withdrawal symptoms make ending use problematic and even unsafe. If you are attempting to quit, you need the help of qualified medical specialists in a structured environment.
Should I Start Hydrocodone Detox Near Duluth?
Even substances like Vicodin that are prescribed by doctors may bring about issues with dependency. If you take Vicodin beyond your prescription or keep using once your prescription runs out, then you may be dependent and need detox. You could even find yourself consumed with thoughts of taking more of the painkiller and hurt relationships to continue using on a consistent basis.
You may need hydrocodone detox in Duluth if you encounter:
Withdrawal symptoms when trying to stop
Chronic mood swings, confusion, or depression
Withdrawing from family, friends, and interests you enjoyed in the past
A preoccupation with keeping up your supply of the drug
An increased tolerance where you have to take more to get the same results
Inability to fulfill commitments at home, work, or school
Even if you don't have all the concerns posted, you will require help any time a Vicodin dependency emerges. Withdrawal symptoms may be disabling and potentially deadly, and the only means to halt use safely is through a medically directed detox.
What Will I Anticipate From Vicodin Detox At Sunrise?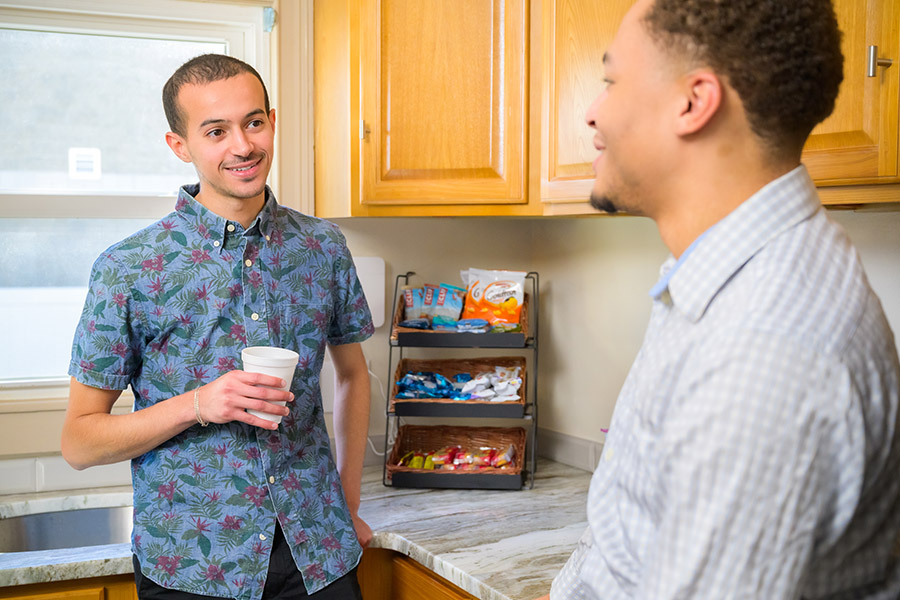 Our skilled medical staff knows there isn't a one-size-fits-all approach to detoxing. You can expect to be treated with empathy and respect in a
non-judgmental surrounding
at Sunrise Detox Duluth and we'll begin your personalized treatment with a in-depth assessment. Consequently, we can craft a unique treatment strategy, including medicine required to help you detox in a safe manner.
We understand the physical and psychological distress detox causes, which is why our personnel checks your vital signs regularly and is ready to help around-the-clock. We are proficient in dealing with various withdrawal symptoms, including:
Nausea and vomiting
Anxiety
Depression
Insomnia
Muscle aches and pains
Irritability and confusion
Trembling or tremors
Seizures
We'll swiftly attend to any difficulties that arise. We'll also keep you rested and provided for with comfortable bedrooms, relaxing common areas, nutritious meals, and 24/7 access to drinks and snacks.
Whenever you're feeling strong enough, you'll be encouraged to participate in one-on-one and group counseling. This not only will assist you while you're here but also prepare you for inpatient rehab, the following step of your care. When it's time, we'll assist you in finding how you will proceed in treatment via collaborative aftercare planning.
What Is The Timeframe For Vicodin Detox?
You will be in our care as long as it takes to get you stable from a medical standpoint and ready to take the next step in recovery. For many, admission to Sunrise Detox is immediate, and detox will usually go for 7 to 10 days. The amount of time you spend here is contingent on the following factors:
The extent of your Vicodin use including frequency, duration, and dosage quantities
Your physical health
Your response to care
When you are stable and equipped with an aftercare plan, we'll help you transfer to a qualified inpatient rehab.
How Do We Keep You Safe Throughout Vicodin Detox Near Duluth?
Your safety is a top consideration at our Vicodin detox near Duluth. We are careful about monitoring you and know how to manage potentially hazardous withdrawal symptoms. Furthermore, we'll ensure any medicine utilized to help you detox from hydrocodone is administered appropriately to steer clear of a secondary addiction.
We protect you with:
24-hour medical support from trained professionals
Individualized treatment plans unique to your situation
A structured setting free from external forces that trigger use
Careful aftercare planning to keep you progressing toward a complete recovery
Strict patient privacy guidelines to make certain your treatment details and personal information are kept confidential
Suboxone is regularly used to gradually help you quit opioids as it is not as likely to cause addiction than alternative treatment options. It can help minimize withdrawal symptoms, but it has to be administered carefully by knowledgeable professionals. If you are given Suboxone, these protocols will be followed:
To circumvent precipitated withdrawal, we'll hold off on utilizing Suboxone until the proper time
We will carefully track your response after an initial dose
Adjustments to your dosage will be made or other treatment possibilities considered
You'll be carefully weaned off Suboxone
Get Started On Vicodin Detox Near Duluth Now
Stop using hydrocodone safely by turning to the experts at Sunrise Detox Duluth. Our Vicodin detox in Duluth is skilled in managing withdrawal and will carefully rid the drug from your body. Contact 470-327-8336 to request detox service today. We reply to inquiries at any time, every day of the year.
Call 470-327-8336 Today